Read more Stouffville Blog posts!
In 2014 Vote for a Smart 404/Woodbine Corridor
September 22, 2014
By Julie King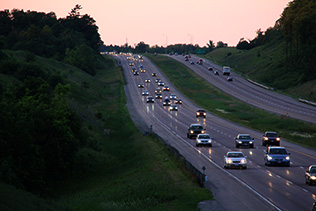 The Town of Whitchurch-Stouffville is a unique community, something that is highlighted every four years during the municipal election. Spanning over 200 square kilometres, our municipality is home to one primary urban residential area, a number of hamlets and two primary industrial areas: one in the urbanized area and another along the 404 corridor in Gormley.
Quite often election debates focus issues affecting the urban residential area. Yet this year it is critical for all residents to take time to carefully consider the right approach for the development of the 404/Woodbine corridor lands.
I was prompted to write this op-ed (see full disclaimer below) after reading comments from one mayoral candidate that urged voters to elect a full council that would block changes to the designated Greenbelt lands along the 404/Woodbine corridor.
As someone a detailed background of this issue, as well as a serious stake as a property and business owner in the area — for the record my lands are not restricted by the Greenbelt legislation — I felt it was vital that I take a stand and explain why voters must in fact elect a council that will move forward with plans already submitted by council that would see the 404/Woodbine corridor developed.
Smart development of lands along the 404/Woodbine corridor are essential to the future prosperity of our community. Let me explain why.
Reasons for 404/Woodbine corridor urbanization
Highways are conduits that enable people and goods to move quickly between communities. Planners have recognized that urban sprawl is not healthy for communities and you will find leading thinkers advocating for concentrated urbanization in places that make sense.
Environmentally, highway corridors are a logical place to encourage business development. Industry naturally prefers to locate where there is easy access to customers, employees and distribution channels. There are also environmental advantages to minimizing traffic and directing people to travel to work using major public transit and road conduits along urban corridors. The same logic applies to the efficient movement of goods between businesses.
We can see clear evidence of this if we reflect on the companies that have chosen to build major facilities and even national headquarters along the 404 corridor. Honda chose to build its national headquarters less than 1 km south of the Markham-Stouffville border and just 2.5 km south of the start of the Gormley industrial lands. Travel just a bit further south and you are in the true "Silicon north," home to companies like IBM, Oracle, Dell and others. Then to the north starting on the west side of the 404 at Aurora Rd. we have State Farm's national headquarters, followed by urban industrial development from there northward along the west side of the highway.
Now, in an exciting development, transit options will be further enhanced with the development of new Go train stations on the west side of the 404 at Stouffville Rd. and then Bloomington.
This corridor is already booming and shows great promise for development, yet what is taking place on the eastern side of the highway?
To the east of the 404, on the lands in Whitchurch-Stouffville, growth opportunities are severely limited by a lack of municipal water and sewage services. Without these services, only businesses in the dry industrial category can be permitted in the area. Human employees need washroom facilities and unless businesses locating in the area are willing to dedicate a significant amount of land to septic beds, unlikely given the ability to locate in other communities without this hassle, the businesses that our 404 corridor lands will attracts are ones that required few employees per acre: dry industrial companies.
That means fewer and lower quality jobs, as well as an underutilization of the available lands. While across the highway to the north and on both sides of the highway to the south, our neighbouring communities prosper from the provision of good quality industrial/commercial employment lands usage — high-tech jobs, manufacturing jobs, healthcare jobs... premium jobs.
Timing, not unique environmental sensitivity, led to current zoning
It is vital for people to understand that unlucky timing, not a special environmental sensitivity, led to Stouffville's 404 corridor lands being included in the Greenbelt designation.
The faster growing communities of Aurora, Newmarket and Richmond Hill already had the lands on the west side of the 404 approved for commercial / industrial use in their secondary plans, while the communities of Whitchurch-Stouffville and East Gwillimbury did not. When the Greenbelt legislation was enacted in 2005, lands already designated in approved secondary plans were not affected, while adjacent lands in towns like ours were frozen carte blanche.
The protection of green spaces and farmland is important, but it needs to be done in a way that is also logical and consistent with adjacent lands and major transit corridors. This is where the problem with the 404/Woodbine corridor and in particular the blockage of the provision of important water and septic services to designated industrial lands due to Greenbelt-designated lands, becomes apparent.
The recognition of this is evident in the economic development strategy report (2009-2014) from the past council, which best summarizes some of the key challenges:
"Industrial land use categories incorporated into the Secondary Plan include both Prestige Industrial and Industrial. At this time however, both of these land use categories only permit dry uses industrial uses due to the lack of servicing to this area of Town. This fact will significantly limit the Town's ability to attract investment and users to the area. The lack of servicing also limits the Town's ability to capitalize on the inherent value of the lands from development perspective as well.
"In the project team's opinion, the locational attributes of the Secondary Plan area represent a major employment opportunity for the town of Whitchurch-Stouffville, given the proximity to Highway 404 as well as two regional arterials (Stouffville Road and Woodbine Avenue), proximity to an interchange with Highway 404 and its "gateway" location to the Community of Stouffville. Given the level and character of development that is in evidence along the 404 corridor to the south and that is beginning to emerge in Aurora, there is every expectation that this area of Whitchurch-Stouffville is strategically located to attract significant employment growth in the future.
"A further consideration in this regard is the need to revisit the secondary plan policies as they relate to the areas in order to bring the secondary plan policies for industrial land uses in line with the long term potential for investment attraction in this area and the emerging market opportunities for the 404 corridor."
To summarize in plain language: By developing the 404/Woodbine corridor lands, residents in our town will be able to access better quality, higher-paying jobs in their hometown while also benefitting from increased tax revenues to the town to support important services and programming for residents.
Imagine this: Services were brought in to the Honda plant just 2.5 km south of Gormley, yet in speaking with a representative from the Region a few years ago I was told that services could not be extended to this area because they could not be moved across a small segment of Greenbelt-designated lands separating the industrial lands in Markham and Stouffville. Similarly, bringing services from adjoining industrial lands in Richmond Hill or Aurora was not possible because that would require going under the 404 highway, which was too costly.
Now there is also an issue of capacity for the current pipelines, leaving other communities around Stouffville to prosper from the development of high-quality employment lands, while in Stouffville our most opportune lands are limited to dry industrial uses only.
Strong vision, leadership needed
Vision is needed to lead our town in disruptive times. There is an opportunity to develop another strong community within Whitchurch-Stouffville in the Gormley area that would benefit all residents, both in terms of the tax base and opportunity to create quality jobs.
Those issue should concern every resident of Stouffville. On election day, I implore you to vote for a council that has a vision that encompasses and respects all of Whitchurch-Stouffville. Elect a council that has the foresight and courage to demand that our community is allowed to develop what are arguably our most valuable employment lands.
The prosperity of our community depends on it.
Full disclosure: I am a property owner in the Gormley area, where I also run a knowledge-based company. Since moving to the area from Ward 3 in 2002, I have been an active participant in many economic development activities and sat as a volunteer on the town's Economic Development Advisory Committee (EDAC) from 2007-2010, where I learned about the importance of implementing smart economic development strategies along the 404 corridor.
Whitchurch-Stouffville election candidates weigh in:
Where do the mayoral and council candidates stand on this topic? I reached out to the councillors in Wards 1-3 and all the mayoral candidates to ask them this question. There responses will be posted here as they are received, in the order in which they are received by category.
Mayoral candidates
Willie Reodica
FOR

Willie intends to "… work hard and negotiate "amendments" about the Oak Ridges Moraines Act and the Greenbelt Acts that imposed strict restrictions on lands fronting the H-way 404, and other areas" as well as pushing for new transit routes to Wards 1 and 3 and ensuring newly elected councillors are cognizant about Re-development of Employment Lands and Create New Business Opportunities.

Arnold Neufeldt-Fast
MIXED

Arnold intends to advocate for services in the Gormley employment lands, but will not advocate an employment strategy that requires the conversion of both sides of Woodbine Avenue, north of Aurora to East Gwillimbury, to employment lands, which he notes are "protected countryside" Class 1 farmlands in the town north of the moraine.
Ward candidates
Hugo Kroon (Ward 3)
FOR

Hugo strongly supports "… the goal of opening up much needed employment lands by working with the province and the region to re-designate necessary lands as well as extend servicing and resources to the true western approach of Whitchurch-Stouffville "

Ken Ferdinands (Ward 1)
FOR

Ken strongly supports smart development along the 404/Woodbine corridor and emphasizes that the future mayor needs to be educated on this issue and be able to do some "heavy lifting" with the Region to ensure this 10-15 year project moves forward.

Brad Whittick (Ward 3)
FOR

Brad supports the concept of growing business along the 404 corridor and would advocate change within Ward 3 to accomplish this.