Read more Stouffville Blog posts!
Hollywood Whistling for Stouffville's ArtsCan Circle
September 28, 2012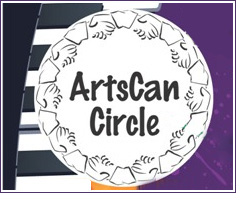 You've seen him on TV in Columbo, Murder She Wrote, LA Law and films like Star 80 and Empire Strikes Back . But you may not know that you've also heard him on Days Of Our Lives, Buck Rogers in the 20th Century and in many commercials.

He's Guerin Barry, Hollywood's professional whistler. Whether it is feature films, documentaries, commercials or pop records, when Hollywood wants whistling, Guerin is the go-to-guy.

And right now he's thinking about the upcoming ArtsCan Circle Benefit to be held in Stouffville.
When I asked Guerin if he would show his support for ArtsCan Circle he agreed immediately. 'ÄúAs a member of the 'Äė50'Äôs rock group, Sha Na Na, I traveled around the world and saw the positive effects of music.'ÄĚ Barry told me. 'ÄúOver ten years ago, my son, Keith, co-founded a music school in Los Angeles with his friend, Flea, from the Red Hot Chili Peppers, because they, too, recognized the benefits of music for children.'ÄĚ
Guerin and I e-met a few years back when I was just getting Stouffville's volunteer driven WhiStle Radio (CIWS 102.7fm) started. It is a funny story in itself how we met. The end result was that Barry did some excellent station ids and I sent him my collection of the Old Time Radio show The Whistler. Since then we've kept in touch through social media.
Barry will be making a special 'Äúe-appearance'ÄĚ at the fundraiser. He'Äôll be whistling a special song to show his support. 'ÄúThis is very important work. Please support ArtsCan Circle.'ÄĚ said Barry 'Äúand be sure to visit me online at trainedwhistle.com'ÄĚ
ArtsCan Circle is a registered charity operating in Newmarket, Ontario. ArtsCan Circle sends teams of musicians and artists to remote Canadian Indigenous communities to link creative artists with Indigenous youth at risk. More information about ArtsCan Circle can be found at http://www.artscancircle.ca/
The benefit takes place Saturday September 29th, starting at 7:30pm Tickets are $15 in advance ($20 at the door) at Stouffville's historic 19-on-the-Park. Tickets can be purchased at the box office, or online at: www.19onthepark.ca/songs
The theme of the evening is, appropriately, Songs of Hope & Love.
~Jim