Read more Stouffville Blog posts!
Clothing Market
May 3, 2013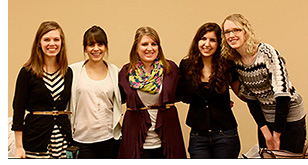 This all started with the idea of a clothing swap among a few friends.
We really had no idea it would grow to be this big.
We're just a small group of 20-somethings and we want to change the world one sequin at a time.
The Clothing Market is our way of doing that.
The Clothing Market is a gently-used and refashioned women's clothing sale that will take place in Stouffville on May 25, 2013. Rather than just swapping clothes amongst ourselves, we want our love for fashion to actually benefit other people, and that is why we will be donating all of our proceeds to International Needs Ghana. This organization has plants in many third world countries. In Ghana, they are helping to rescue, rehabilitate and restore exploited women and children, who have been rescued from commercial sex slavery.
They are also involved in raising awareness of children's rights, supporting children in completing primary and secondary education, providing health, water and sanitation services and empowering vulnerable women through vocational skills training, counseling and rehabilitation. Essentially, we want to captivate the heart of our community to move towards justice, and in this case, the justice of exploited women and children.
And, we want our community to have a good time doing just that.
Hence, The Clothing Market.
This event is two-pronged in that it will help change the lives of women and children in Ghana, but our hope is that it changes our perspectives as consumers and citizens of the world. One of our goals is to promote restoration - to show that old things can be made new, that we don't always have to go out and buy the next-best-thing. There are good things in our midst. We just have to make an effort to uncover them, and that is why we have re-fashioned clothing items to sell. We've made holey sweaters into headbands and out-of-style turtlenecks into pencil skirts.
We look forward to people beginning to use their eyes to see the potential in what we consider old' or 'ugly' in that it can be made into something beautiful.
All clothing has been graciously donated by women in the Stouffville and greater-Stouffville community. Clothes for all women ages 12 and older will be available at prices ranging from $1 to $50. Tell your friends, co-workers, neighbours... really anyone you can! There are a lot of clothes, and we believe with a lot of people, we can create a lot of positive change in our local and global community.
If you have any questions or want more information, visit our website (www.theclothingmarket.org) or e-mail us (stouffvilleclothingmarket@gmail.com).
- Bianca Turco & The Clothing Market Team