Read more Stouffville Blog posts!
Local Artists Contest
June 12, 2013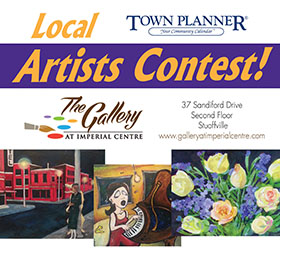 Are you an artist with work that depicts life in Stouffville?
The Gallery at the Imperial Center and the Town Planner Community Calendar are holding an art contest that will feature one winner and 12 runner up's in the Town Planner Community Calendar.
The first place winner will appear on the cover of the Stouffville Town Planner and twelve pieces of artwork from the runner up's will appear throughout the months.
To enter the contest, artists are invited to submit up to 13 photos of their "Stouffville life" inspired artwork. The deadline for submission is June 30th, 2013.
So if you are a local artist interested in entering the contest, be sure to submit your entries soon to broyce@townplanner.com.
For more information please contact Betty Jo Royce at 905-235-1411.
We wish all artists Good Luck!