Read more Stouffville Blog posts!
TEDxStouffville: A Regional Story of Collaboration and Community Building Driven by Innovation
July 24, 2013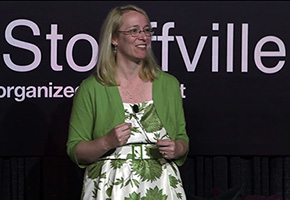 At TEDxStouffville on June 21, 2013 Karen Dubeau talked about her passion for technology and innovation and how a simple conversation between unexpected organizations led to opportunities that had a powerful impact on the community.
In this talk Karen explores ways communities can stay agile in our rapidly evolving world, using examples "from the trenches" based on experiences from organizations in York Region.
We are entering a time where "servant leadership" is a new model for success. Be sure to take time to listen to this inspiring talk from TEDxStouffville!